The Balltori team is happy to bring you an update on the Champions League, and we hope you stay tuned as we bring more new, livescores as soon as they get started.
As well as the title winners of the six highest-ranked leagues per UEFA's association coefficient.
Since Manchester City are also the English champions, Dutch Eredivisie title winners Feyenoord have earned a spot in Pot 1.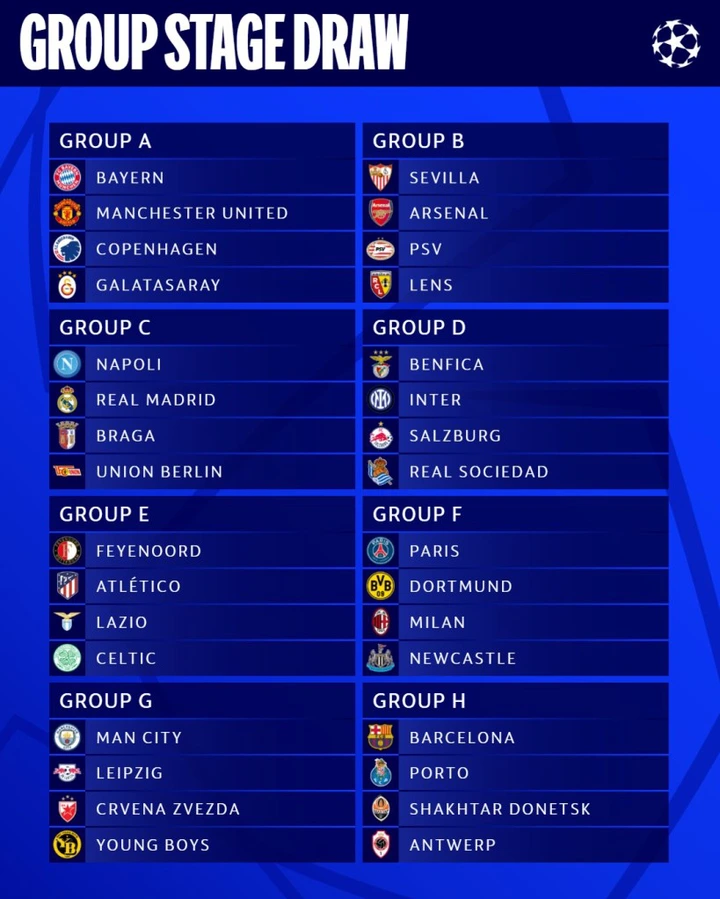 The pots were completed this week with the UEFA Champions League qualifying play-offs wrapping up. The teams that advanced have been sorted into the available pots, based on their UEFA club coefficient.
POTS:
Pot 1: Manchester City, Sevilla, FC Barcelona, Napoli, Bayern Munich, Paris Saint-Germain, Benfica, Feyenoord.
Pot 2: Real Madrid, Manchester United, Inter Milan, Borussia Dortmund, Atletico Madrid, RB Leipzig, Porto, Arsenal.
Pot 3: Shakhtar Donetsk, Red Bull Salzburg, AC Milan, SS Lazio, Red Star Belgrade, Braga, PSV Eindhoven, FC Copenhagen.
Pot 4: Newcastle United, Union Berlin, RC Lens, Real Sociedad, Celtic, Young Boys, Royal Antwerp, Galatasaray.
Group Stage Matchdays:
Matchday 1: Sept. 19th-20th
Matchday 2: Oct. 3rd-4th
Matchday 3: Oct. 24th-25th
Matchday 4: Nov. 7th-8th
Matchday 5: Nov. 28th-29th
Matchday 6: Dec. 12th-13th